The Internet Society chapter in the UK (ISOC England) has been awarded a community grants award in November 2009 to design and implement an "IPv6 crawler", a software that would crawl through the DNS at regular intervals in order to detect and test the following: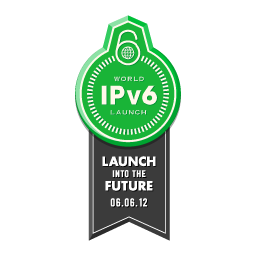 IPv6 DNS servers
IPv6 compliant web servers
IPv6 compliant SMTP servers
IPv6 compliant NTP servers
The software has been running on ISOC England owned hardware in Telehouse North, London Docklands, hosted on 2020Media's sponsored rack, since Summer 2010 and more than 160Gb of data has been collected so far – and the tracking is ongoing.
On 6 June 2012, ISOC England joined many other ISOC Chapters and organisations in the World IPv6 Launch by staging a Webinar about the project's results.
Now we have more results one month later.
Has the World IPv6 Launch benefited many countries or just a happy few?
Is the UK on its way to have IPv6 content?
Who leads in the world in IPv6 content?
For answers to those questions, click on:
The IPv6 Matrix Web site is on: http://www.ipv6matrix.org/